Senior Savings Program
Wheaton Worldwide Moving Senior Discount Incentives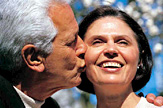 At age 50 and above, many of us begin planning changes in our lives. It's time to enjoy the fruits of our labor - maybe a change in lifestyle, a change in scenery or even a move to a new home in another part of the country. This is truly a "new beginning" and that's why Wheaton created the New Beginnings Program especially for people like you.

At Wheaton World Wide Moving, we know how important it is to make your move easy and hassle-free. We know what your needs are and how to meet them. So, if you're planning a move, relax and let us handle it ... because, at Wheaton, we don't just move your things, we move your life.

New Beginnings Benefits & Guarantees
Guaranteed on-time pick-up and delivery. If a pick-up or delivery is late or delayed, Wheaton will pay up to $150 per day for each late day, up to the amount of the transportation charge.
Guaranteed price
Our quoted price for the services requested and items to be moved won't vary - even if the estimated weight of your shipment differs from the actual weight (Per our Binding Estimate Price tariff item).
Guaranteed claim settlement within 30 days of receiving your claim form
In the unlikely event that you must file a claim, Wheaton will resolve it promptly. In fact, we will pay you $25 per day, for every day the claim is delayed, up to $250.
$50 off Replacement Value Protection Coverage
We provide a price reduction for full coverage protection which provides for replacement or full repair of any items damaged in transit.
10% - 30% discount on a room with over 5,000 locations worldwide
Whether you need a place to stay before, during or after your move, call 1-800-4-CHOICE and ask for the Wheaton Discount #00800933* on a room at Choice Hotels (Sleep, Comfort, Quality, Clarion, Rodeway, EconoLodge and MainStay Suites). Call for other hotel complimentary services.
The benefits and guarantees of the New Beginnings Program
apply only to interstate moves
. As a regulated household goods moving company, full rules and regulations are contained in the Household Goods Tariff.
*Guests 60+ can save 20% - 30% with advance reservations, and all travelers 50+ can receive a 10% discount (no advance reservations required). Discounts based on availability at participating hotels. Cannot be combined with other offers or discounts.