Packing is the key to a safe and successful move. You have invested a lot of care and money in your belongings. When you move them you want to be certain they will arrive safely. The best way to do that is to make sure they are packed properly using the best materials available.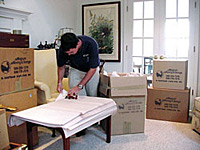 Magnum's award-winning moving team has been trained to pack and move all of your possessions. From corrugated boxes to custom wood crates, the Magnum team can ensure that everything will arrive safely at your destination. An experienced team will arrive the day of your move with all the necessary materials to professionally pack your belongings.
Care and detail is given to packing all of your possessions from china and glassware to audio components and artwork. Our crews are also trained to pack and load items that offer certain challenges, including pool tables, chandeliers, exercise equipment, safes, antiques and marble. Informing Magnum's estimator of the more "challenging" items will simplify the moving process as, often times, these items require customized crates that must be built prior to your move.
Unlike many moving companies, Magnum builds and customizes wood crates to provide the needed safety of your marble, glass artwork and other valuable possessions. These crates are built to exact specifications and provide optimum protection for your more valuable possessions. Informing Magnum's estimator of such items will ensure that the crew arrives on moving day with all the necessary packing and crating materials.
If you do choose to pack your own items, please be aware that if any damage occurs, responsibility will be difficult to establish if there is no visible damage to the outside of the carton. During your estimate, our moving consultant can provide valuable packing tips or you can request a brochure.
Once you arrive at your new destination our unpacking services will make settling into your new home worry free. The cartons will be unloaded and placed in the appropriate room. Your items will then be unpacked and placed on the nearest flat surface ready for you to stow away at your convenience
We have many sizes of boxes and packing materials in stock including bubble wrap and packing paper. These can be picked up during our business hours.
Recycling

Recycled packing materials available at discounted rates

We can recycle your old appliances and used metals