Local Moving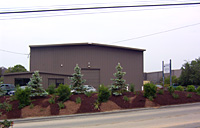 With our own fleet of trucks, Magnum Moving & Storage offers unparalleled service in local moving. We offer complete moving services anywhere in Massachusetts. From pianos to every item in your home, Magnum is the number one choice - just ask the local realtors. Our staff is comprised of experienced, educated and professionally trained individuals who will make your moving process stress-free and with your needs in mind.
What we promise in service, we deliver!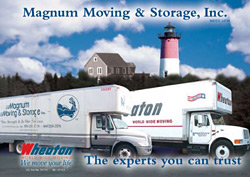 Local and intrastate moves within Massachusetts are based on hourly rates. These rates differ depending upon the number of movers, trucks and travel time. Special services and other conditions can affect your billing. Be accurate and detailed when speaking with one of our local specialists.
If your move requires storage, for any length of time, Magnum Moving & Storage is unrivaled for quality in warehouse storage. When storage was introduced to our line of services, Magnum was first to maintain a temperate controlled building, insulated and insured, fire and pest protected. It was our goal to provide a facility that closely matched how our customers cared for their own belongings. With our 30,000 square foot facility in North Eastham, nobody offers the range of services and the level of service like we do.
For information on your responsibilities & valuation, please see our client information and property valuation pages.